All curls, kinks and coils are beautiful, but I've noticed a lot of problematic beliefs and stereotypes that still exist in the black community, especially when it comes to type four hair.
I'm about two months into my natural hair journey, and I can say so far so good. As I previously mentioned, being on this journey has opened my eyes to the various aspects of hair care. I've come across a lot of surprising and problematic issues, and wanted to share with the world to provide, and hopefully receive some more insight.
Not All Hair Care By Us, is For Us
Quite naturally, when I decided to go natural I went straight to the ethnic hair care section when shopping for products. While I was greeted by the orange and yellow hues of Cantu bottles and Shea Moisture, I had the rude awakening that these products were not for me.
My original choice of hair care products was Carol's Daughter, however when I brought the products to my stylist, it was an automatic 'no!' They explained to me that the formula had changed ever since the owner, Lisa Price, sold the line to L'Oreal back in 2014.
Since I was relaxing my hair back then, I never really kept up to date with the natural hair care products, but once I decided to transition I learned that a lot of products that claim to be targeted and made for people of color, are not actually the best thing for us. For the longest of times I remember the excitement and consistent support of Shea Moisture – however they recently changed their formula as well to include other hair types. Not only has Twitter dragged the company, but it also opened my eyes to the fact that a lot of products that did work for black hair, all eventually sold out. While the products sold and worked, in order to become more 'inclusive', formulas had to change, ingredients had to be added and it was all at the expense of the black communities' hair.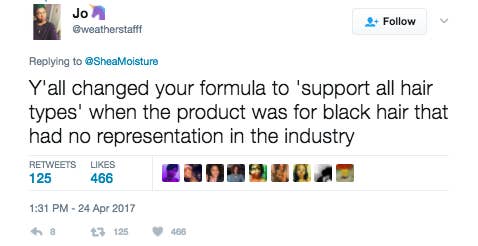 Idolizing Type Three Hair
Throughout this journey my eyes were opened to how much colorism and curl ideation existed. I have to admit, seeing the first few strands of my natural hair I assumed that my curl pattern was a 4a – the kind of curls that are idolized by society. The ones that match white or fairer-toned skin, that bounce in the wind, that are shiny.
Throughout history, type 4 hair has always been referred to as nappy, rough, unmanageable and difficult. Not to mention that in almost all hair care ads, even from brands that are tailored specifically to black hair, the woman in the ad always has a type 3 or 4a curl.
I never really knew how much that European beauty standards affected me, until I secretly found myself wishing and hoping that my curl pattern was a 4a. I didn't want 4b or 4c, I didn't want the 'naps' or the 'kinks' – I wanted the beautiful whimsical curls that I saw on the ads posted all around me. Every time I searched #naturalhair on Instagram, all of the photos had type 3 or 4 hair and I started to become discouraged that if my hair was a 4b or 4c, I would not be able to manage it or make it look as pretty.
But now, I have fallen in love with my hair. Seeing the new growth sprout whenever I look at my roots, I love feeling and pulling at my curls, and when I see the actual length beyond the shrinkage I start to ask myself 'Why did I ever perm it in the first place?'As I mentioned in a previous blog post, 2019 started out pretty rough for me and it's been full of ups and downs, and I'm learning self care and through this journey falling in love with my hair has been one of the best things that has happened.
All curls and coils are beautiful, but 4b and 4c hair are just as whimsical and lovely as the type three as well. One thing that I did that I thought was pretty great was found style inspo for 4b and 4c hair – seeing the posts with women with hair like myself was really inspiring and uplifting. A good reminder in life: always surround yourself with the positive and with people like you.
What are your thoughts on hair bias in the community?
Feature Photo: Nappy